Fearing one disaster will feed another, US relief groups are putting some people who fled their homes during West Coast wildfires into hotels to reduce the spread of coronavirus, stringing up shower curtains to separate people in group shelters and delivering box lunches instead of setting up buffets.
Large disaster response organisations like the American Red Cross are still operating some traditional shelters in gyms and churches, where they require masks, clean and disinfect often and try to keep evacuees at least 6 feet (2 metres) apart, the Associated Press reports.
The groups say they can reduce the risk of getting infected with coronavirus in a shelter but can't keep people safe if they don't evacuate from the flames.
"The last thing we want to have happen is people to remain in the path of a wildfire or hurricane because they think it's safer to do that than risk a shelter," said Brad Kieserman, vice president of disaster operations and logistics for the American Red Cross.
The fires in California, Oregon and Washington state have killed several people and sent 6,300 to emergency Red Cross shelters and hotels.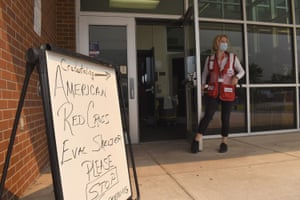 As many as 50,000 more could need shelters before the blazes are under control, Kieserman said.
Normally, they'd be gathering in school gymnasiums and meeting halls, sleeping on cots and eating at buffet lines provided by the Red Cross, Salvation Army and other faith and community groups.
But because coronavirus is easily spread in close quarters, gathering places are potential hotbeds of transmission.
That's got disaster assistance groups taking a different approach.
The Red Cross screens evacuees and those who are sick or have symptoms are sent to special isolation shelters and kept away from one another.
When possible, displaced residents are sent to hotels instead of group shelters.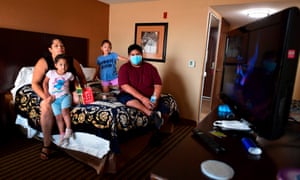 Instead of buffet lines, box lunches are delivered.
In central California, where thousands of residents had to flee the Creek Fire, more than 1,200 evacuees are staying at 30 hotels, said Tony Briggs with the Red Cross in Fresno.
In group shelters, staffers are using plastic pipes strung with clear shower curtains to separate evacuees but allow them to see out from their own socially distanced areas.