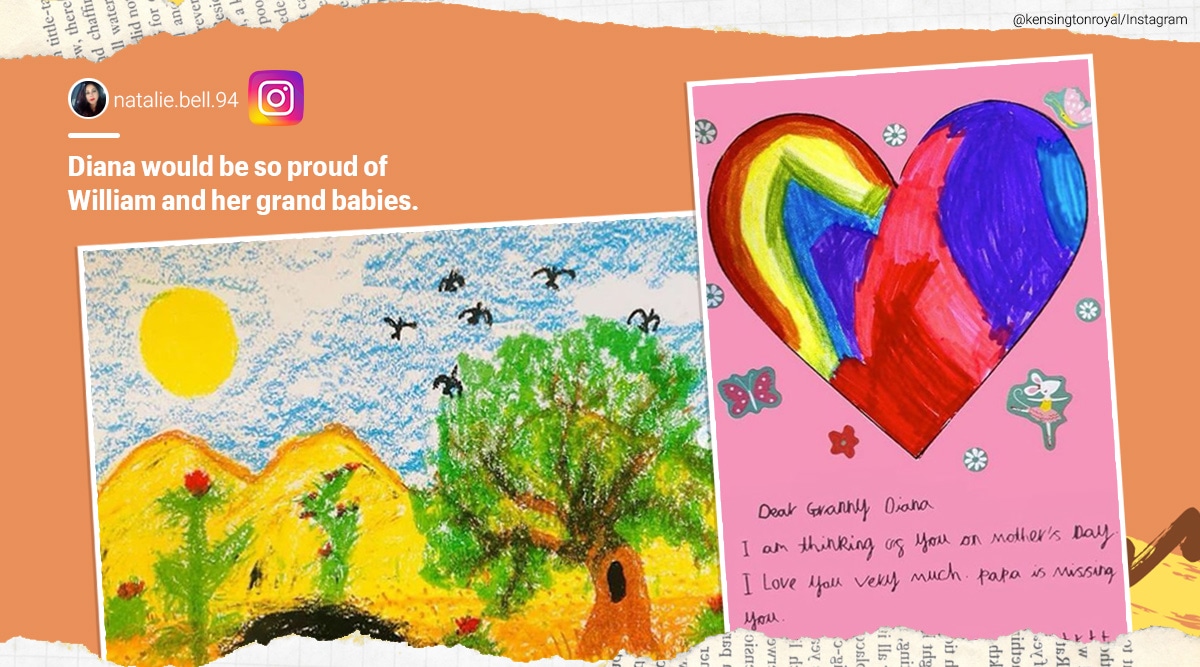 The Duke and Duchess of Cambridge shared pictures of handwritten Mother's Day cards addressed to "Granny Diana" from their three children.
Pictures of the cards made by Prince George, Princess Charlotte and Prince Louis were posted on social media by Kensington Palace on their official Instagram and Twitter accounts.
"Each year on Mother's Day, George, Charlotte and Louis make cards remembering their Granny, Diana, for William," the caption read.
Prince George, 7, wrote "Happy happy Mother's Day. I love you very much and think of you always," while 5-year-old Princess Charlotte wrote "Dear Granny Diana, I am thinking of you on Mother's Day. I love you very much. Papa is missing you. Lots of love, Charlotte."
Prince Louis, who is almost 3, drew a heart.
Princess Diana died in the early hours of August 31, 1997, after being involved in a car crash in the Pont de l'Alma tunnel in Paris.
Take a look here:
The post delighted many on the internet. Take a look at some of the reactions here:
This is so incredibly lovely that they honour their grandma every Mother's Day🥺❤️ Charlotte's 'papa is missing you' has finished me😭😭

— Belle (@RoyallyBelle_) March 14, 2021
That's so beautiful to see. She would be super proud of yourselves and those wonderful grandchildren you have given her. Thinking of William today, it doesn't get easier, you just learn to live without them.

— Karen Smith (@kaz_diva) March 14, 2021
Well this broke me. Thinking of every person who is unable to call their mother right now whilst they're watching over you in heaven. ❤️

— Kate's Rangers (@KatesRangers) March 14, 2021
Owwww! This actually made me cry. I think Princess Charlotte is going to have beautiful handwriting, its italic, perfect! God bless you and your family. & God save our Queen.

— Wally (@yankeewally2) March 14, 2021
Happy Mother's Day, Di 🌹 pic.twitter.com/sD5cno5yrX

— Royal Fancams (@RoyalFancams) March 14, 2021
Just beautiful, your Mum will be so proud of you William when she looks down on your beautiful family. You and Kate are a credit to the Royal family and the United Kingdom 🇬🇧❤️

— Mrs S (@Livingt43397598) March 14, 2021
Despite not being present, Diana, Princess of Wales has always had a place in their heart, memories and they know enough of the love Prince William has for her. So heart-warming. Love this family so much. ❤️❤️❤️❤️❤️

— George Grant (@RuleBGB) March 14, 2021
What Prince George and Princess Charlotte wrote really got me 😭😭😭 I'm glad they and Prince Louis know a lot about their grandma Diana… they are the sweetest and most talented kids 💕💕 and happy day to the wonderful Duchess of Cambridge who is an amazing mother ❤️❤️❤️❤️

— The Cambridges (@loveforcambridg) March 14, 2021
"Papa is missing you"…broke me!!

Missing my foster mum who has been my rock during my growing up years!!
😢😢😢😢😢

Happy Mother's Day @KensingtonRoyal and to all mothers out there!!

— Nur Y (@nur_aryani) March 14, 2021
Oh shit, I wasn't prepared for this!
I lost my dad when I was 9, Charlotte note "papa is missing you" hit really close to home!! pic.twitter.com/kkui008Mj9

— laltp (@laltp) March 14, 2021
The post comes after William's brother, Prince Harry, and his wife, Meghan Markle, opened up about the Royal family in a tell-all interview with Oprah Winfrey.