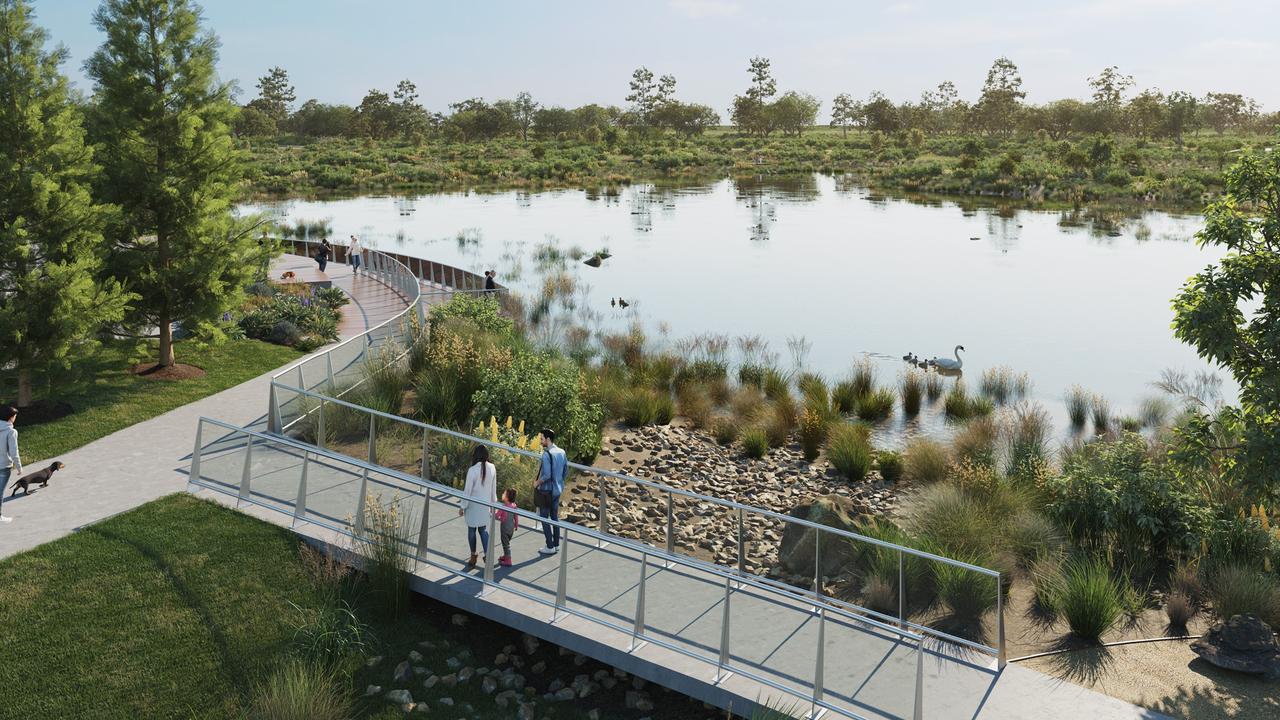 The final townhouses are for sale at a Rowville housing estate, billed as one of Australia's most sustainable developments.
The final townhouses are up for sale at Stockland's Waterlea development in Rowville.
It's the final opportunity to buy into the 6.3ha community, with prices starting from $689,000. All homes will have access to rejuvenated parks and wetlands, part of the $13m Stamford Park redevelopment being undertaken by Knox Council.
According to Stockland, Waterlea is one of the most sustainable developments in Australia with about $10,000 worth of sustainability features included as standard in every home, to provide direct cost savings in the way of future energy bills to residents.
The estate has been recognised with a 6 Star Green Star communities design rating by the Green Building Council of Australia.
Lisa Balaban and her partner Rob moved into a four-bedroom townhouse in Waterlea last August.
Ms Balaban said the 6 star energy rating of Waterlea was an appealing factor in the couple's decision to buy in the estate, as well as the real sense of community.
"I felt previously living in an existing property, I never got to know the neighbours that well," she said.
The couple's home overlooks the wetlands and park, which was another appealing factor.
"It's been life-changing for me," Ms Balaban said.
"I was worried about not having a backyard, but I haven't missed it.
"I don't know if that's because we now look out onto 40ha of parklands and wetlands.
"I'm into birdlife now which I've never been into before, and can spot pelicans and black swans from our kitchen windows."
Ms Balaban said she had always been sceptical about buying a new home after hearing horror stories from others about moving into new estates or housing developments, but after making the move into Waterlea she had changed her mind.
"If you do your research it is something I would recommend to anyone," she said.
Stockland general manger for development – communities Ben Cantwell said Waterlea had become a thriving community within Rowville with residents close to a range of existing transport options, schools, universities, and Stud Park Shopping Centre.
"This is the last opportunity for people to live within this vibrant and liveable community," he said.
"These homes offer contemporary design and urban style together with surrounding open spaces.
"Most importantly, every home at Waterlea will also include innovative sustainability features as standard, including solar panels, electric vehicle recharge points, provisions for battery storage and water tanks."
The Stamford Park precinct occupies over 40ha of open space, waterways and natural habitat, and includes a new adventure playground.
Stage 3 of the redevelopment will incorporate shared walking and cycle paths, an additional playground, boardwalks through the wetlands, and a village green intended for community events and get-togethers.
Stamford Park is also home to the restored Stamford Park Homestead.
Upon completion the Waterlea community will comprise of a mix of more than 175 architecturally designed townhomes and semi-detached homes.
Details: phone 13 52 63 or register your interest online at stockland.com.au/waterlea