07:54
Inflation: the key charts
This chart illustrates pretty clearly why inflation rose last month:
At 0.7%, the UK annual inflation rate is still lower than before the pandemic – but higher than last summer [CPI fell to just 0.2% in August 2020]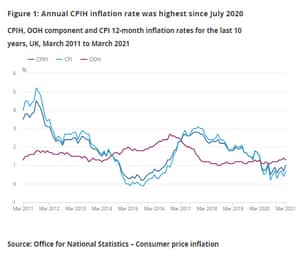 07:35
On a monthly basis, the UK consumer prices index (CPI) rose by 0.3% in March.
That was mainly due to the cost of motor fuels and clothing going up, helping to push the annual inflation rate to 0.7%.
07:19
Introduction: UK inflation rises to 0.7%, lifted by fuel and clothing costs
Good morning, and welcome to our rolling coverage of the world economy, the financial markets, the eurozone and business.
The UK's inflation rate has risen, pushed up by rising fuel and clothing costs ahead of the easing of the Covid-19 lockdown.
Figures just released show the annual consumer prices index rose to 0.7% in March, up from 0.4% in February, with transport costs making the largest contribution.
The Office for National Statistics says that rising prices for motor fuels and clothing pushed the inflation rate higher, although this was partially offset by falls in the price of food.
The ONS says a rise in costs at the pumps helped to push up the cost of living:



Between March 2020 and February 2021, motor fuels made a downward contribution to the CPIH 12-month rate. However, the contribution has turned positive in March 2021 reflecting a 12-month rate for motor fuels of 3.5%, the first positive rate since February 2020.

Petrol prices stood at 123.7 pence per litre in March 2021, compared with 119.4 pence per litre in March 2020 and a recent low of 106.2 pence per litre in May 2020.
Clothing and footwear prices also increased notable in March, ahead of the opening of non-essential shops earlier this month.
They rose by 1.6% between February and March 2021, compared with a fall of 0.3% between the same two months a year ago.
The ONS explains:



The rise this year has been influenced by a fall in the amount of discounting between February and March, albeit the incidence of discounting is still above normal levels for the time of year.

The upward contribution came principally from a wide range of women's clothing.
Also coming up
Worries about the Covid-19 pandemic are weighing on the markets again, amid a surge in coronavirus cases in countries like India and Japan.
Yesterday, European markets posted their biggest fall this year, with airlines and hospitality firms badly hit. The pan-European Stoxx 600 lost 1.9%, while in London the FTSE 100 lost 2%.
Asia-Pacific markets have dropped again today, with Japan Nikkei 225 down around 1.9%, South Korea's Kospi off 1.4% and Hong Kong's Hang Seng falling 1.7%.
Stephen Innes of AXI says renewed virus concerns have spooked markets:



A worsening health crisis in India pushes out the return of pre-covid travel even further in the Asia-Pacific region.

It highlights the uneven pace of economic recovery in pockets of emerging markets.

Sticky travel restrictions leave economies with greater dependence on tourism (e.g. Thailand) and domestic demand (e.g. India) at risk of further disappointing growth expectations in 2021.
The agenda
7am BST: UK inflation report
9.05am BST: Bank of England deputy governor Sir Dave Ramsden speaks at UK FinTech week conference
12pm BST: US weekly mortgage applications
3.30pm BST: EIA weekly oil inventory figures
Updated